Home

Working with the parishes of St. Aidan's, Brookfield and St. Thomas the apostle , Jobstown.

Dear All,
The annual Mass of Remembrance for Those, whose funerals took place in our parish church, will be held on Tuesday, 23rd of November at 7.30 pm. You are All very welcome to attend as it is a time for Families to remember and pray for departed Loved Ones whether it was recent or long ago.
Envelopes for the November Altar list of the Dead are available at the back of the church.
MASSES ON THE FIRST FRIDAY OF EACH MONTH throughout the year are offered for Those who are on our Altar List of the Dead. 
Dear Families,
We pray special Blessings upon you at this significant time in your child's life and we are looking forward to greet you All in our parish churches for the First Holy Communion Mass!
Please check out the videos below, which may be a great reminder of the Gifts and Beauty our Faith offers us! We trust that God's Grace is always active and working through the Sacraments regardless of the circumstances we are finding ourselves in the past year and a half.
You will see that the second video is about the First Reconciliation.
We hope it will be helpful guidance for your child as she/he will prepare for the confession in the future. Once again, we deeply regret that due to large numbers of children due to receive the First Holy Communion, we could not offer the First Confession this year for the classes of 2021.
There will be a Rite of Forgiveness incorporated at the beginning of the Mass during the celebration of the Word.
Faithfully Yours,
Parish Team
https://www.youtube.com/watch?v=tE16fhHXdv0
| | |
| --- | --- |
| | The second video in the series to assist families and children in preparation for the Sacraments of Penance(Confession) and Eucharist(Holy Communion). This v… |
During this period of time, regular weekday Masses will be celebrated ONLY in St. Mark's, Springfield, each weekday morning at 10am.
In the event of a funeral occurring in St. Mark's during that time, it will be celebrated at 10am. We will give our regular weekday Mass goers as much notice as possible in the event of a funeral occurring and we ask the Rosary group to pray the Rosary at home privately during this time.
Weekend Masses will continue as normal in ALL our churches during this time. 
Many thanks for your continued prayer, support and understanding.
Your Faithfully,
The Parish Team
Church video

Welcome to St Mark's Parish Website
As a Christian Community we seek to put Christ at the centre of our Parish by promoting worship and prayer and by endeavoring to live out God's commandments of love and service of each other as brothers and sisters in Christ.
Thank you for visiting our web site. We hope you will learn a little from the information on all aspects of Community and Parish activity. Look under Churches for information about our two churches including Mass and service times or use our search facility. See our contacts page with information as to how to contact us.
We need your help and comments.
MAY YOUR SUMMER BE BLESSED!
MAY YOU TAKE SOME REST! MAY YOUR BODY, SOUL AND MIND BE RESTORED!
You may wish to explore & enjoy the following FREE apps this Summer:
Useful Links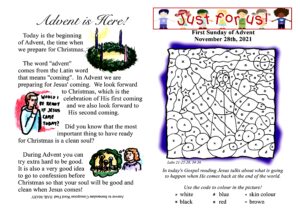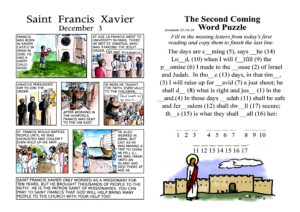 Praying with Scripture at Home – 28th Nov 2021
Walking Advent with the Scriptures 2021 – Wk1 Poster
Walking Advent with the Scriptures 2021
Scripture Study/Prayer group
A group of parishoners meet each Thursday evening at 7.30 pm in Shalom parish Centre to deepen their understanding of the Bible and its meaning for our lives. All are welcome
Since 2012, a group of parishioners has been meeting each week, to explore the Bible and to ask ourselves, how it might relate to our lives today. Before the Pandemic, we met in Shalom, beside St Mark's church, each Monday. Some people come weekly, others less frequently. All are welcome!
When the Pandemic hit, we had a gap of a few weeks. However, we discovered that we missed our connection and the chance it gave us to prepare for Mass each Sunday. By introducing us to the readings beforehand, we had the opportunity to read and reflect on what each reading might mean for us today.
Although none of us was very good with technology, we learned how to set up and connect to a Zoom meeting. In this way we were able to see each other and continue the reflection that we had in Shalom.
Each week a group of between six and eight of us meet on Zoom to share our thoughts, insights and questions on the readings for the following Sunday's mass. We invite you to join us!

No previous knowledge of the Bible is required. What each of us brings to the
meeting is a desire to explore the faith that has guided our lives and to learn to understand and appreciate it more fully.
We don't have easy answers to the hard questions of life, but we do share our faith and hope in Jesus and in the power of God's Word. We also help each other toward a better understanding of what it means to be a believer in today's world.
PLEASE EMAIL TO THE PARISH SECRETARY TO RECEIVE A ZOOM LINK for Monday evening meetings: saintmarksparishchurch@gmail.com 
Peace,
Valerie Warren on behalf of the 'Exploring the Bible' group
GODLY PLAY

spiritual accompaniment for children

explore their own spirituality through STORYTELLING

connect with Parables and Sacred Stories through PLAY

 wonder about the mysterious presence of God

You are invited to a "Taster" morning to experience Godly Play.

Where? Brookfield Parish Church

When?  Saturday 13th November

Time?    9.15a.m.-12.15p.m.

Cost?   €20 incl Tea/ Coffee.

Saule Cameron and Rosemary Lavelle are recognised Godly Play Trainers in Ireland. They will focus their stories on The Circle of the Church Year and on Advent.

Booking is essential. Text Saule at 085 801 8987

Come and see… Come and wonder with us…
KNOW YOUR FAITH
Come to PATHWAYS: EXPLORING FAITH AND MINISTRY
An Adult Faith Development Programme
Applications are now open for the next intake of participants for Pathways.
This programme is run by the Archdiocese of Dublin. It will begin in DCU St. Patrick's Campus, (MDCCE), Drumcondra Rd. Dublin, 9. on Thursday 30th. September 2021 (7.00p.m. – 9.30 p.m.). Places are limited so early application is advised.
Pathways is a two-year, one night a week, course for adults of all ages who wish to explore their faith.
It runs from late September to May each year. There are no exams and no written work. The only requirement is an openness to listening to others and to participate. You can just come along and enjoy!
The cost is €400 for the coming year which may be paid in instalments. Some sponsorship may be available for those of limited means.
For more information please visit the webpage: www.evangelisation.ie or contact: Eileen Houlahan, CHF, PhD, Director, Pathways Programme, Holy Cross College, Clonliffe Road, Dublin, DO3 P2E7. Phone : 01 8087594 Email: pathways@dublindiocese.ie
IMPORTANT TO KNOW
Please read information below regarding public worship in our parish churches. all current measures will apply, including:
• Social distancing inside and outside church.
• Face coverings are mandatory for all adults, even if you've been vaccinated (unless certified otherwise by a doctor).
• Please use hand sanitiser entering and leaving church.
• Stewards are there to support our efforts. Please co-operate fully with them.
• 50 person limit in all churches. Doors will be closed on reaching the limit.
• Funerals and weddings will also have a 50 person limit
• All safety guidelines may be subject to change, according to guidance of the Bishops' Conference and our own Archbishop Dermot Farrell.
Mass from St. Thomas', Jobstown and St Mark's, Springfield will continue to be live streamed on their respective websites.
St. Mark's Church
Monday – Wednesday 10am
Thursday – No Mass – Exposition of the Blessed Sacrament
Friday – 10am
Saturday Evening (vigil) – 6.30pm
Sunday – 12.30pm
Church of the Incarnation, Fettercairn
Sunday – 10am
St. Thomas' Church, Jobstown
Tuesday and Thursday – 10am      Tuesday – Prayer service at 10 am,
Sunday – 11.30am
St. Aidan's Church, Brookfield
Saturday Evening (vigil) – 5.30pm
Sunday – 10.30am
Confessions
St. Mark's – Friday 11am – 12 noon (subject to availability of priest) or anytime on request.
Finally….
We have been through so much together during this last year. Many of us have suffered greatly through bereavement, illness, loneliness, job losses etc. But the last year has also brought out the best in so many; supporting friends and neighbours in countless ways …. 'the thousands of unremembered acts of kindness….' This is the legacy that will help us build our parish community into the future. The last year has shown us that we don't ultimately have so much control over our lives. This, understandably, can be a source of fear or freedom. Ultimately, it is an invitation to trust our lives to God every moment of every day. Jesus' most oft repeated phrase in the Gospel is 'do not be afraid'. As we continue to rebuild our lives and parish community may we build on the firm foundation of Jesus. Through him may we learn more and more clearly …. do not be afraid.
'I have told you all this so that so that you may
find peace in me. In the world you will have
trouble, but do not be afraid; I have overcome'
the world (John 16:33)
Welcome home family.
Daily Bible Verses
[js-bible-verses]