Home

                         WELCOME TO ST MARK'S WEBSITE
Working with the parishes of St. Aidan's, Brookfield and St. Thomas the apostle , Jobstown.
The Parishes of
St. Mark's Springfield / St. Aidan's, Brookfield / St. Thomas the Apostle, Jobstown
St. Mark's Church, Maplewood Road,     St. Aidan's Church, Brookfield Road       St. Thomas the Apostle Church                      Church of the Incarnation, Kilcarrig
Springfield, Tallaght, Dublin 24                          Tallaght, Dublin 24                              Jobstown, Dublin 24              Avenue, Fettercairn, Dublin 24
Tel:  (01) 462 0777                                                Tel:  (01) 4523595                              Tel:  (01) 4523595                       Tel:  (01) 4620777
It is with very mixed emotions that I am informing you today of some significant changes in our area team. 
The Archbishop has asked myself, Saule, our pastoral worker and Deacon Derek to move to new appointments. I will be taking a period of sabbatical (personal /spiritual renewal) before my next appointment, while Saule and Deacon Derek will be moving to the Clondalkin grouping of parishes.
A new pastoral worker and a Deacon have been appointed to the pastoral team here. Fr. Bill will take over my responsibilities as moderator of the grouping of parishes and he will be assisted by two new Priests.
The two new priests will probably have other responsibilities along with parish duties ,as does Fr. Bill so I ask all of you who have supported our parish team so well in the past while, continue to do so in the future as we build hope together in our diocese. 
Fr. Gerry will continue to work as part of the team and Fr. Martin will assist where he can.
Change always brings fears and doubts but also new opportunities for growth, both personally and as a community.
May all of you who make our area such a beautiful place to work and live continue to build this community in faith, hope and love.
Please pray for myself ,Saule and Derek as we move to new adventures with the Lord and Fr. Bill as he builds the new pastoral team in our area. We look forward to meeting with many of you over the early weeks of Summer. 
The new changes come into effect on weekend of 9th /10 July.
Fr. Pat McKinley on behalf of the Parish Team.
==================================================================
Dear Friends,
We are sharing with you THE SYNOD FEEDBACK FORM which is the fruit of deep listening from the two meetings, held in Brookfield Community centre last month.
Thank you to Those of you who were able to join us. We are sure, that there were many of you, who couldn't make it because of the Family and work commitments. We are grateful to One and All.
We would like to express a special word of thanks to the small group leaders – Gail Sheridan, Don Harper, Pacelli O'Rourke, Joy Powell, Valerie Warren and Sr. Maureen Ferguson, for their commitment and leadership and the input in collating the responses!
We are also extremely grateful to the Brookfield Community centre staff and volunteers, especially to the manager Sandra Lambert and assistant Manager Patrick Ryan for your efficient help , support and a cheerful heart from the booking of the venue to the end of second gathering. May you All remain blessed for your kindness and a great work in our wider community!
Your Faithfully,
Synod Animators:
Matthew Obamwonyi,
Sr. Clare Dawson,
Deacon Derek Leonard
& parish pastoral worker Saule Cameron.
CLICK on the BLUE TEXT below to access the Feedback Form
—————————————————————————————————–
ARCHBISHOP FARRELL, LIVING THE HOPE OF EASTER
"Easter is not just some date, but the meeting with Jesus that restores our lives, and rekindles the hope every person needs." – Archbishop Dermot Farrell
Archbishop Farrell has released his Easter 2022 Pastoral Letter, Living the Hope of Easter. It can be read at https://dublindiocese.ie/living-the-hope-of-easter/. A video of Archbishop Farrell reading from his pastoral letter can be watched at https://youtu.be/TdWLWj_lCEU/.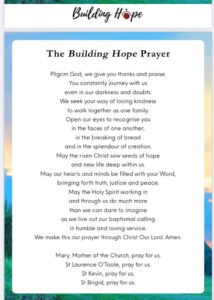 Dear Parent(s) /Guardian(s),
We are delighted to announce First Holy Communion and Confirmation dates for 2022.  As with the last two years the sacraments will be celebrated on a class-by-class basis.
All children must be baptized Roman Catholics in order to receive the sacraments. If your child has not yet been baptized you must contact St. Mark's Parish Office IMMEDIATELY to register, 01-4620777 Mon-Fri 10.30 – 12.30pm.
At least one parent/guardian must be verifiably Roman Catholic to have your child baptized.
A simple online application process will be available in the coming weeks to register your child for the sacraments. Hard copies of the application will be available through the parish offices in Springfield and Jobstown for anyone who cannot access the online platform. You will need your child's Roman Catholic baptism certificate to complete the application. This is available from the church where the child was baptized.
To compliment the preparation work done in school, our parishes will offer various online resources between now and May to help you and your child/children prepare for these great gifts of God. The best preparation for receiving the sacraments is to pray every day with your children and bring them along to our Sunday celebrations in our parishes.
Details of the celebration of First Confessions for First Communicants will be issued in due course.
The Parish Team
To find details for each class, please click on SACRAMENTS at the top of the page and choose either First Holy Communion or Confirmation.
MASSES ON THE FIRST FRIDAY OF EACH MONTH throughout the year are offered for Those who are on our Altar List of the Dead. 
During this period of time, regular weekday Masses will be celebrated ONLY in St. Mark's, Springfield, each weekday morning at 10am.
In the event of a funeral occurring in St. Mark's during that time, it will be celebrated at 10am. We will give our regular weekday Mass goers as much notice as possible in the event of a funeral occurring and we ask the Rosary group to pray the Rosary at home privately during this time.
Weekend Masses will continue as normal in ALL our churches during this time. 
Many thanks for your continued prayer, support and understanding.
Your Faithfully,
The Parish Team
Church video

Useful Links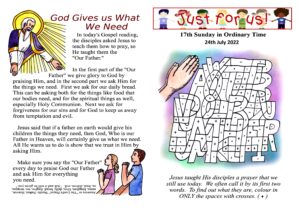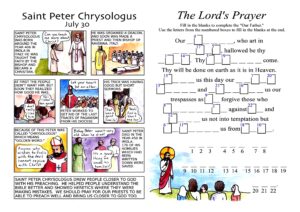 Praying with Scripture at Home – 24th July 2022
MAD Compliment your Mirror Day
Reflection on the feast of the Sacred Heart
Family Passing on the Faith – Resource
Rathcoole Parish – Stations of the Cross
Mass from St. Thomas', Jobstown and St Mark's, Springfield will continue to be live streamed on their respective websites.
St. Mark's Church
Monday – Wednesday 10am
Thursday – No Mass – Exposition of the Blessed Sacrament
Friday – 10am
Saturday Evening (vigil) – 6.30pm
Sunday – 12.30pm
Church of the Incarnation, Fettercairn
Sunday – 10am
St. Thomas' Church, Jobstown
Tuesday and Thursday – 10am      Tuesday – Prayer service at 10 am,
Sunday – 11.30am
St. Aidan's Church, Brookfield
Saturday Evening (vigil) – 5.30pm
Sunday – 10.30am
Confessions
St. Mark's – Friday 11am – 12 noon (subject to availability of priest) or anytime on request.
Daily Bible Verses
[js-bible-verses]