Home

                         WELCOME TO ST MARK'S WEBSITE
Working with the parishes of St. Aidan's, Brookfield and St. Thomas the apostle , Jobstown.
The Parishes of
St. Mark's Springfield / St. Aidan's, Brookfield / St. Thomas the Apostle, Jobstown
St. Mark's Church, Maplewood Road,     St. Aidan's Church, Brookfield Road       St. Thomas the Apostle Church                      Church of the Incarnation, Kilcarrig
Springfield, Tallaght, Dublin 24                          Tallaght, Dublin 24                              Jobstown, Dublin 24              Avenue, Fettercairn, Dublin 24
Tel:  (01) 462 0777                                                Tel:  (01) 4523595                              Tel:  (01) 4523595                       Tel:  (01) 4620777
WEEK OF PRAYER TO THE HOLY SPIRIT
You are warmly invited to join together in a Week of Prayer to the Holy Spirit for the renewal of the Church in Dublin from May 29 to June 6 – Ascension Sunday through Pentecost to the Feast of Mary, Mother of the Church.
Your Week of Prayer resource booklet is attached.          weekofprayer1
The period covers many interesting feasts and scripture quotations. There is a four-line prayer each day which uses the Building Hope Prayer as its base with relevant additions. There is also a mixture of Introductions to the Liturgy, Reflections after the Gospel and a Litany that you might find useful.
ECUMENICAL BIBLE WEEK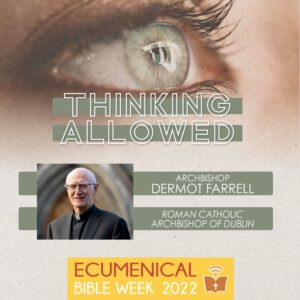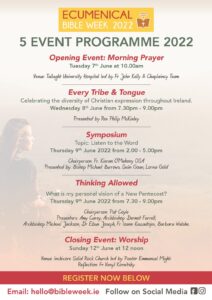 Now in its ninth year, Ecumenical Bible Week, led by the Archdiocese of Dublin and the United Dioceses of Dublin and Glendalough in collaboration with many other Christian traditions, will run this year from Pentecost to Trinity Sunday, June 5 to 12. The overall theme for this year is 'A New Pentecost:  Moving to the Edges'.
As in previous years, EBW will have opening and closing prayer events. There will be a Theological Symposium on the afternoon of Thursday 9 June where the theme will be 'Listen to the Word'. That evening in Thinking Allowed a panel of Faith leaders will each give their 'Personal Vision of a New Pentecost'. A new event being introduced this year will focus on the experiences of the 'new' Irish.
Check out the Ecumenical Bible Week's Website at www.bibleweek.ie for further information and to register for the events which will be online. You can also follow and share Ecumenical Bible Week's online posts on Facebook and Instagram. Posters attached.
GODLY PLAY
THE VERY LAST GODLY PLAY session 'Knowing Jesus in a New Way' will be held coming Tuesday, May 31, from 11am to midday for adults; 3pm to 4pm for children. Venue: St Thomas the Apostle parish pastoral centre, Jobstown, Tallaght. Facilitators: Rosemary Lavelle and Saule Cameron. See the attached poster.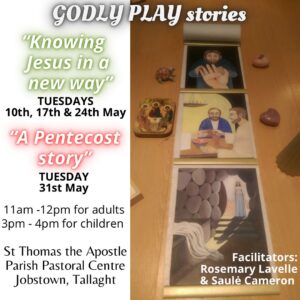 PRAY FOR LIFE NOVENA INVITATION
The Pray for Life Novena is an invitation to join thousands of people across Ireland to pray for the protection of human life, from today, Monday, May 23, to the Feast of the Visitation on May 31. Each day's intention is accompanied by a short reflection and suggested actions to help build a culture of life in Ireland.  Visit www.prayforlife.ie for the daily novena prayers. This is an initiative of the Council for Life of the Irish Catholic Bishops' Conference. Image attached.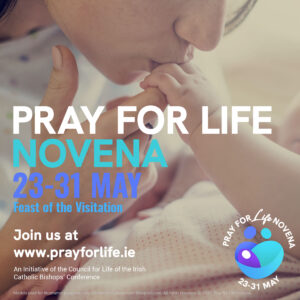 GLENDALOUGH HERMITAGE CENTRE CELEBRATES 21 YEARS
Archbishop Dermot Farrell will launch the celebrations with Mass on Sunday the 29th at 10.30am in St Kevin's Church, Laragh. On Friday the 3rd of June there will be a concert in St Kevin's at 8pm. All are welcome to visit the Hermitages at the open days on Saturday 4th and Sunday 5th June from 11 till 5 each day. There are Pilgrim walks arranged for Saturday the 4th of June. A ritual with Deirdre Ni Chinneide will take place in the meditation garden at St. Kevin's on Saturday the 4th and Sunday the 5th from 2.30 till 3.30pm. Tickets for the concert and information about the walks are available by phoning 087 9356696 or by email failte@glendaloughhermitage.ie. Poster attached.
=====================================================================
Dear Friends,
We are sharing with you THE SYNOD FEEDBACK FORM which is the fruit of deep listening from the two meetings, held in Brookfield Community centre last month.
Thank you to Those of you who were able to join us. We are sure, that there were many of you, who couldn't make it because of the Family and work commitments. We are grateful to One and All.
We would like to express a special word of thanks to the small group leaders – Gail Sheridan, Don Harper, Pacelli O'Rourke, Joy Powell, Valerie Warren and Sr. Maureen Ferguson, for their commitment and leadership and the input in collating the responses!
We are also extremely grateful to the Brookfield Community centre staff and volunteers, especially to the manager Sandra Lambert and assistant Manager Patrick Ryan for your efficient help , support and a cheerful heart from the booking of the venue to the end of second gathering. May you All remain blessed for your kindness and a great work in our wider community!
Your Faithfully,
Synod Animators:
Matthew Obamwonyi,
Sr. Clare Dawson,
Deacon Derek Leonard
& parish pastoral worker Saule Cameron.
CLICK on the BLUE TEXT below to access the Feedback Form
—————————————————————————————————–
ARCHBISHOP FARRELL, LIVING THE HOPE OF EASTER
"Easter is not just some date, but the meeting with Jesus that restores our lives, and rekindles the hope every person needs." – Archbishop Dermot Farrell
Archbishop Farrell has released his Easter 2022 Pastoral Letter, Living the Hope of Easter. It can be read at https://dublindiocese.ie/living-the-hope-of-easter/. A video of Archbishop Farrell reading from his pastoral letter can be watched at https://youtu.be/TdWLWj_lCEU/.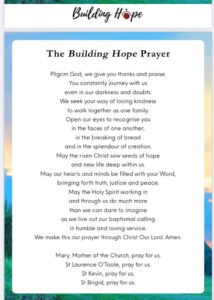 Dear Parent(s) /Guardian(s),
We are delighted to announce First Holy Communion and Confirmation dates for 2022.  As with the last two years the sacraments will be celebrated on a class-by-class basis.
All children must be baptized Roman Catholics in order to receive the sacraments. If your child has not yet been baptized you must contact St. Mark's Parish Office IMMEDIATELY to register, 01-4620777 Mon-Fri 10.30 – 12.30pm.
At least one parent/guardian must be verifiably Roman Catholic to have your child baptized.
A simple online application process will be available in the coming weeks to register your child for the sacraments. Hard copies of the application will be available through the parish offices in Springfield and Jobstown for anyone who cannot access the online platform. You will need your child's Roman Catholic baptism certificate to complete the application. This is available from the church where the child was baptized.
To compliment the preparation work done in school, our parishes will offer various online resources between now and May to help you and your child/children prepare for these great gifts of God. The best preparation for receiving the sacraments is to pray every day with your children and bring them along to our Sunday celebrations in our parishes.
Details of the celebration of First Confessions for First Communicants will be issued in due course.
The Parish Team
To find details for each class, please click on SACRAMENTS at the top of the page and choose either First Holy Communion or Confirmation.
MASSES ON THE FIRST FRIDAY OF EACH MONTH throughout the year are offered for Those who are on our Altar List of the Dead. 
During this period of time, regular weekday Masses will be celebrated ONLY in St. Mark's, Springfield, each weekday morning at 10am.
In the event of a funeral occurring in St. Mark's during that time, it will be celebrated at 10am. We will give our regular weekday Mass goers as much notice as possible in the event of a funeral occurring and we ask the Rosary group to pray the Rosary at home privately during this time.
Weekend Masses will continue as normal in ALL our churches during this time. 
Many thanks for your continued prayer, support and understanding.
Your Faithfully,
The Parish Team
Church video

Useful Links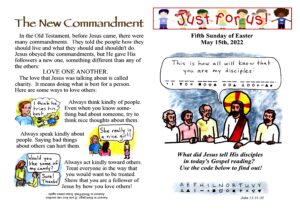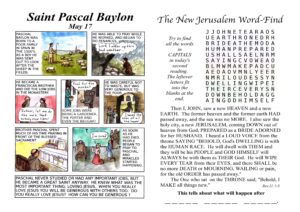 Praying with Scripture at Home – 15th May 2022
May_Altar – Bring flowers of the Rarest
Rathcoole Parish – Stations of the Cross
Mass from St. Thomas', Jobstown and St Mark's, Springfield will continue to be live streamed on their respective websites.
St. Mark's Church
Monday – Wednesday 10am
Thursday – No Mass – Exposition of the Blessed Sacrament
Friday – 10am
Saturday Evening (vigil) – 6.30pm
Sunday – 12.30pm
Church of the Incarnation, Fettercairn
Sunday – 10am
St. Thomas' Church, Jobstown
Tuesday and Thursday – 10am      Tuesday – Prayer service at 10 am,
Sunday – 11.30am
St. Aidan's Church, Brookfield
Saturday Evening (vigil) – 5.30pm
Sunday – 10.30am
Confessions
St. Mark's – Friday 11am – 12 noon (subject to availability of priest) or anytime on request.
Daily Bible Verses
[js-bible-verses]