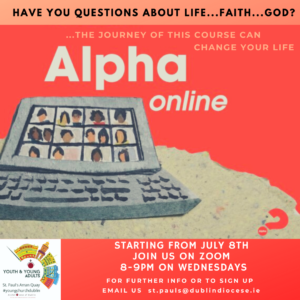 Hi Folks,
The Young Church Dublin team from St. Pauls, would like to invite you to join us for an Alpha online course which we will start from next Wednesday, 8th July, from 8pm-9pm. The course will be run from the comfort of your own home over Zoom for 11 weeks until September 16th.
This Alpha course with YCD is an opportunity for you to grow in your own faith. Alpha is also a wonderful opportunity for friends, family or community members to explore the Christian faith together. Taking part might even encourage you to run Alpha yourself in the future!
What is Alpha?
Alpha is a series of sessions exploring the Christian faith. Each talk looks at a different question around faith and is designed to create conversation. Exploring is good. We're built for it. But for all our searching – it's rare to find time to think, and talk, about the big questions of life; about faith and reason and God and meaning. Alpha is run all around the globe, and everyone is welcome.
Have a look at the 3-minute trailer. Simply click on the link below
https://www.alpha.org/blog/new-alpha-film-series-promo-trailer/
or if you would like to watch a talk click here: https://ireland.alpha.org/watch
So we would love to have you, and anyone you think who might be interested, join us on this journey. Please feel free to forward this email to potential participants.
All participants must register by emailing your name and contact details to  st.pauls@dublindiocese.ie
*Please note that numbers are limited.
Looking forward to beginning this Alpha journey together next week!
Joyfully,
The YCD Team (Siobhán, Kirsten, Gerard and Cilla)
The Young Church Dublin
Archdiocese of Dublin.
May the God of hope fill you with all joy and peace as you trust in him, so that you may overflow with hope by the power of the Holy Spirit.
(Romans 15:13)