Parish Notices
DUBLIN DIOCESAN PILGRIMAGE TO KNOCK – ONLINE ADULT & FAMILY PILGRIMAGE
The Dublin Diocesan Pilgrimage to Knock will take place on Saturday April 24th with a programme of online workshops from Our Lady of Victories Church, Ballymun Road via webcam commencing at 11.50am. The workshops themes will include Challenge for Families, the Holy Spirit and St Joseph & the apparition. From 2.30pm, we will switch to the Knock Shrine webcam for the rosary, the Pilgrimage Mass at 3pm and opportunity for quiet time in the Apparition Chapel.  More details to follow next week. 
Last month, Pope Francis elevated Knock to an International Sanctuary of Special Eucharistic and Marian Devotion, placing it at the same level as Lourdes and Fatima.  We look forward to welcoming you on our virtual pilgrimage which we hope will be a moment of inspiration and encouragement for our Archdiocese at such challenging year for so many people.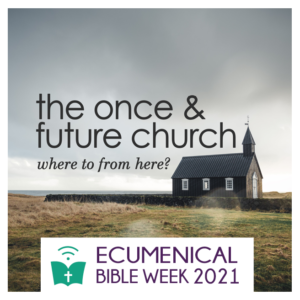 V 
ECUMENICAL BIBLE WEEK 2021 
Ecumenical Bible Week 2021 is an exciting and successful venture which is now in its eight year and will run from Pentecost Sunday (23rd May) to Trinity Sunday (30th May) 2021. Ecumenical Bible Week (EBW) is led by the Archdiocese of Dublin and the United Dioceses of Dublin and Glendalough in collaboration with many other Christian traditions ranging from the Evangelical Alliance to Lutherans, Methodists, Presbyterians and support from the National Bible Society and Scripture Union.  The overall theme this year is "Unlocking Faith Today: Responding to New Realities". This year EBW will have an opening and closing prayer event organised by Holy Trinity Rathmines on Monday 24th and St Finian's Lutheran Church on Sunday 30th respectively. To Register visit  – www.bibleweek.ie
PENTECOST PREPARATION PROGRAMME
The parishes of Old Bawn and Bohernabreena will host a home based programme in preparation for Pentecost. It follows the daily inspirational thoughts from LIVING WORDS (https://www.jesuit.ie/news/inspiration-and-guidance-for-faith-communities/) A weekly video clip is also available through geraldine.massey@gmail.com. The programme leads to a rich awareness of the Holy Spirit in our lives. For more information
01 4510160/01 4141838. 
more about priesthood, please ask them to email the vocations team at: enda.cunningham@dublindiocese.ie or seamusmcentee@yahoo.com
YOUTH INITIATIVES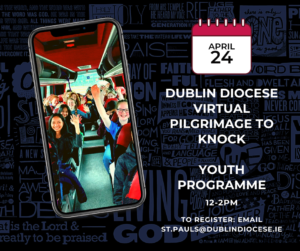 KNOCK YOUTH PILGRIMAGE
Saturday, 24th April, 12noon -2pm, via Zoom. This will be a great interactive session for teenagers from across our Diocese to experience pilgrimage together through workshops, small group discussions, fun and prayer. To register for this youth group you will need to complete the online parental consent form with your parents by clicking here:https://forms.office.com/Pages/ResponsePage.aspx?id=OmwpOQKL0Ua2DW8iFevKayJb-gK7h5tOjDzUJL5UJ0xUNURQSkdYVkRQUktIVFlWNzk5R0NTS0U5RS4u
TEEN HOPE CONNECTED
Teen Hope Connected is a weekly Youth Group. It takes place every Wednesday 6-7pm via Zoom. Join us for fun, exploring faith and life with other Teens through small group discussions, top class games and prayer. If you are interested in joining, please email: kirsten.mahon@dublindiocese.ie
YCD CONNECTED – BRINGING YOUNG PEOPLE TOGETHER
The Young Church Dublin invite you to join our connected group for Young Adults (20's 30's) We meet online every Wednesday, from 8.00-9.00pm for some time of fellow, reflection on Scripture and prayer together. It provides an opportunity to connect in with other young adults in a community of faith. For more information please email: kirsten.mahon@dublindiocese.ie
SUPPORT SERVICES
AWARE – SUPPORT & SELF CARE GROUPS
If you, or those with whom you work wish to connect with people in relation to your mental wellbeing, please consider using the Phone In and Zoom Support & Self Care Groups, the Support Line or Support Mail, now and throughout the holiday season. These services provide support, coping skills and information – and most importantly help people who are in distress to know and feel that they are not alone in their experience.  For more information about the groups https://www.aware.ie/support/support-groups/ and all of our services on www.aware.ie
COVID-19 SUPPORT LINE FOR OLDER PEOPLE
ALONE manage a national support line and additional supports for older people who have concerns or are facing difficulties relating to COVID-19. Professional staff are available to answer queries and give advice and reassurance where necessary. The support line is open seven days a week, 8am – 8pm, by calling 0818 222 024.