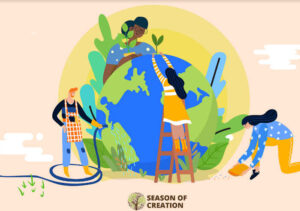 Dear All,
I hope you and your loved ones are keeping well. The 
Season of Creation 2020
 began on September 1st (World Day of Prayer for Creation) and runs until October 4th (the feast of St. Francis of Assisi). Yes, this year will be different as we continue to do our best to protect one another during the pandemic. However, it is also an opportunity for us to engage in many exciting online events, to pray with and for one another and to reflect on how we can 'build back better' after COVID-19, working for a more sustainable and just world for all.
I would like to share with you some exciting initiatives that are happening in the coming weeks:
An important reminder that you will also find parish resources on Trócaire's Season of Creation page as well liturgical resources on the Irish Bishop's Conference website. We encourage faith communities to incorporate these resources into liturgies throughout September as we pray together for our world during these troubling times.
If you are hosting an event, online or otherwise, we would encourage you to add it to the Global Season of Creation map here.
As always, Trócaire's church team are happy to support you in your actions.
With every blessing for a joyful Season of Creation.
Jane Mellett,
Laudato Si' Officer, Trócaire.
"All of us can cooperate as instruments of God for the care of creation, each according to his or her own culture, experience, involvements and talents." (Laudato Si', 14)